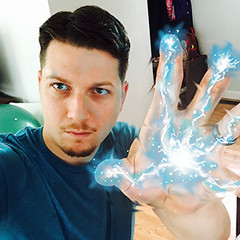 Kody Mooneyham
Great art, great stories, full entertainment!
Chicago, United States
Summary
As a professional artist I have done design work of logos, business cards, brochures, signs, both digital and hand painted physical signs. I have painted private commissions for customers, oil and acrylic mediums. I have had digital paintings published in Get Lit Zine, Spring and Fall issues. I have digitally published webcomics and was a cartoonist for one of my college news papers. Work well with others , looking for creative projects and great stories to entertain.
Skills
Fine Art - traditional painting, digital painting, sculpture.
Comic Art - Penciling, Inking, digital coloring, writing.
Software proficiency